It's been 17 months of empty staterooms, theaters, pools, kids' clubs, spas and restaurants, but cruising is back!
While some things may look a bit different for now, you can rest assured that the dazzling entertainment, impeccable service and attention to detail that have long defined Disney vacations remain the same!
Seventeen months our beloved cruise industry was put on hold, so to be back onboard a cruise ship this weekend was nothing less than incredible. The information and first hand experience I received during this sailing will help me make sure my guests have the best experience at sea possible.
I am so grateful to Disney Destinations for the opportunity to sail, learn and get back on the Dream and I can't wait to share my experience with you below.
I had a lot of guest, family and friends asking me questions about what it's like to cruise since the re-start, so let's get onboard and get to it.
I recently sailed from Port Canaveral on board the Disney Dream. Prior to my cruise I stayed for one night at Walt Disney World, so getting from the resort to port took a little over an hour. I highly recommend flying in the night before so you don't face any travel delays and miss the ship!
Pre-Arrival Information: Currently, guests ages 12 and over are required to be vaccinated to sail and guest under the age of 12 are required to have a negative COVID test prior to arriving at the port. A health and safety questionnaire/information are submitted online through the Safe Passage website prior to travel along with completing the regular online check in.
After arriving to the port (at your selected port arrival time) guest must complete a COVID19 test. Testing is quick and there are plenty of cast members as well as Advent Healthy professionals there to assist. After taking the test guest are instructed to wait either in their cars if they drove to the port or in one of the waiting room tents, results were uploaded to the Safe Passage website within 30 minutes. After tests results are uploaded and guest are "clear to sail" it's time to board the ship.
​
Now we're onboard!
Guest are welcome by a short socially distanced welcome show. The experience was still wonderful, we got to see Mickey and Minnie and grab some photos.
​
What's different: Currently while onboard masks are required in all indoor spaces, once outdoors you no longer have to wear one. Character meet and greets are socially distanced, but there are a lot of opportunities to see characters and get some great selfies! There were alternating shows in the theater and parties on the deck, although the experiences are socially distanced, I still found them to be very enjoyable and filled with the Disney magic we all love.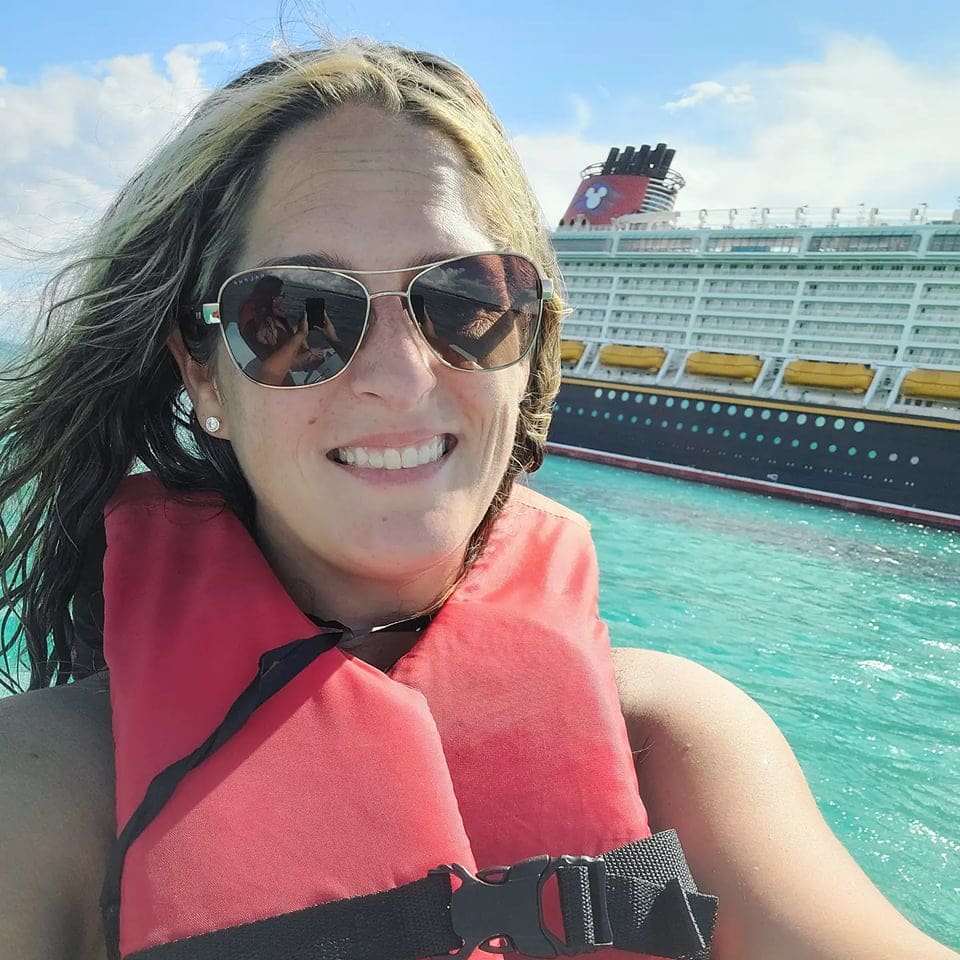 ​
Let's talk dining!
At Cabanas and Cookies on Castaway Cay the crew serves you your meal. I found the food selection at Cabanas to be limited compared to pre COVID sailings, but the food was still very good and plenty of options for the whole family.
On the first night of my sailing, I had dinner at PALO and it was just as good as I remembered it. I had an amazing table next to the window with a beautiful view! I had made my reservation prior to boarding like normal, even thou the navigator app was showing PALO as booked up for the 3 nights, the dining room was not busy while I dined.
​
What's Different: Like before guest sign up for main or late dining, but seating times are now staggered to avoid guests lining up outside of restaurants. For example, we had the "main" seating at 5:30 but our assigned time was 5:50. You are seated only with your travel party. Another new change is that all information on dining rotation, table number, etc. is now found in the Disney Cruise Line Navigator app.
The kids clubs are limited capacity, but kids can come and go as they please as long as clubs are not full. The Oceaneer Club is requiring guest to book 1 reservation to the club per day in advance (these are 1.5 hour time slots) and more once on the ship. Throughout my cruise I checked in on the kids club areas and they were almost always empty, our sailing had on 250 kinds onboard out of the 1,200 passengers.
As before my biggest piece of advice is to download the Disney Cruise Line Navigator app prior to arriving because you will use it for everything: this is where you will find information on activities, dining, menus, characters, etc. One of my favorite features is the text/chat feature which allows you to communicate with other guests in your party, and a virtual queue in the app for disembarking in port, you can even chat with guest services onboard for help during your cruise. You also now use the app for the muster drill…the safety video can be viewed on the TV in your stateroom, and you complete the muster drill by walking to your muster station and taking a photo to submit via the app.
Disembarkation was easier than ever. You have the option of Express Walk off or disembarking in the groups assigned based on you breakfast time. The night before we were left color coated luggage tags which determines your group for disembarkation. If you're choosing to do the express walk off you can take your belongings with you, grab some breakfast and then make your way off the ship.
Overall, my experience back onboard Disney Cruise Line was incredible and more magical than ever, despite the COVID protocols and restrictions. And of course you can still have all the ice cream you can eat!
If you have any questions about returning to sea or taking advantage of the great rates available and special theme sailings coming up, please reach out and let's get your vacation at sea booked.
You can email me at [email protected] call me at (888) 863-2436. Be sure to follow me on social media as well for all things travel.