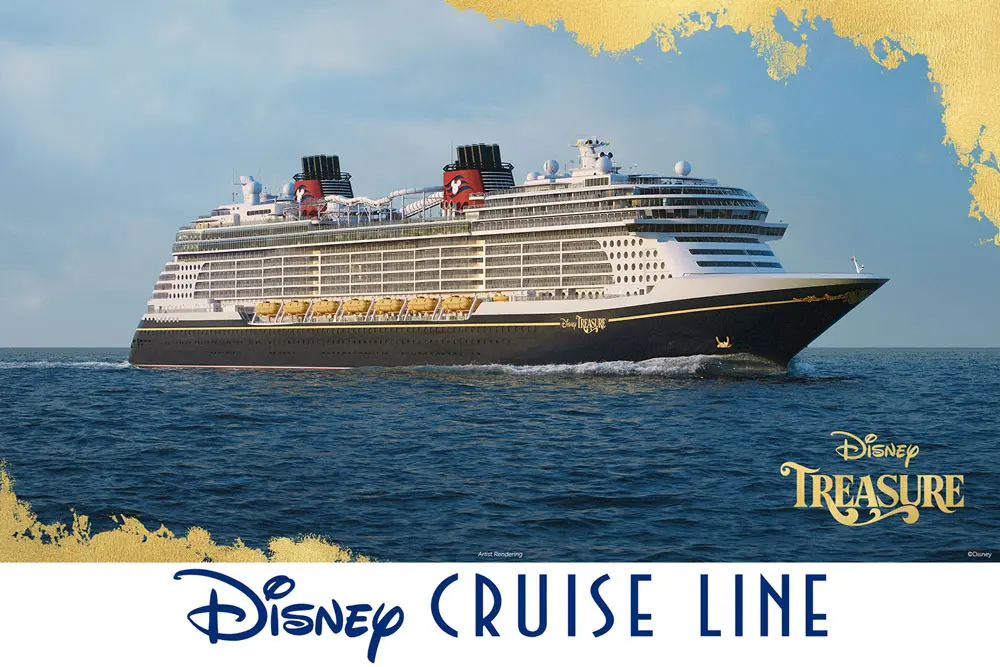 During a Magical presentation by Disney destinations, we learned that the Disney Treasure will join the Disney Cruise Line fleet in December 2024, this will be the sixth ship, and there more ships to come! There is so much to share with you, but for now here are some of our favorite highlights!
Plaza De Coco
The vibrant town of Santa Cecilia will come to life at Plaza De Coco, this will be the first dining experience themed to the Disney and Pixar film, "Coco." The story of Miguel and his familia will continue where it left off in the beloved movie, they will gather in Mariachi Plaza to take guests on two nights of joyful, music-filled journeys that celebrate family, while enjoying a festive traditional Mexican dinner and magical live entertainment.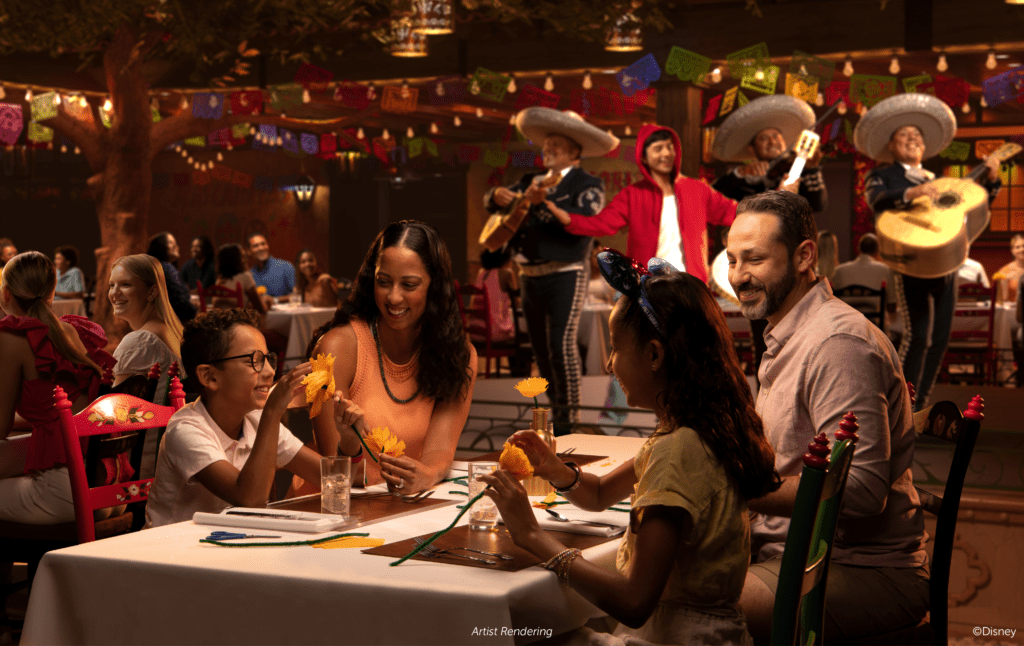 ---
Concierge Suites
The Disney Treasure's concierge level suites will feature elegant interiors inspired by the majestic grasslands Simba calls home in Walt Disney Animation Studios' "The Lion King." The design will feature themed artwork, mosaics and a harmonious color scheme of varying ambers and greens that is reminiscent of soft, mid-morning sunlight reflecting over the savannah.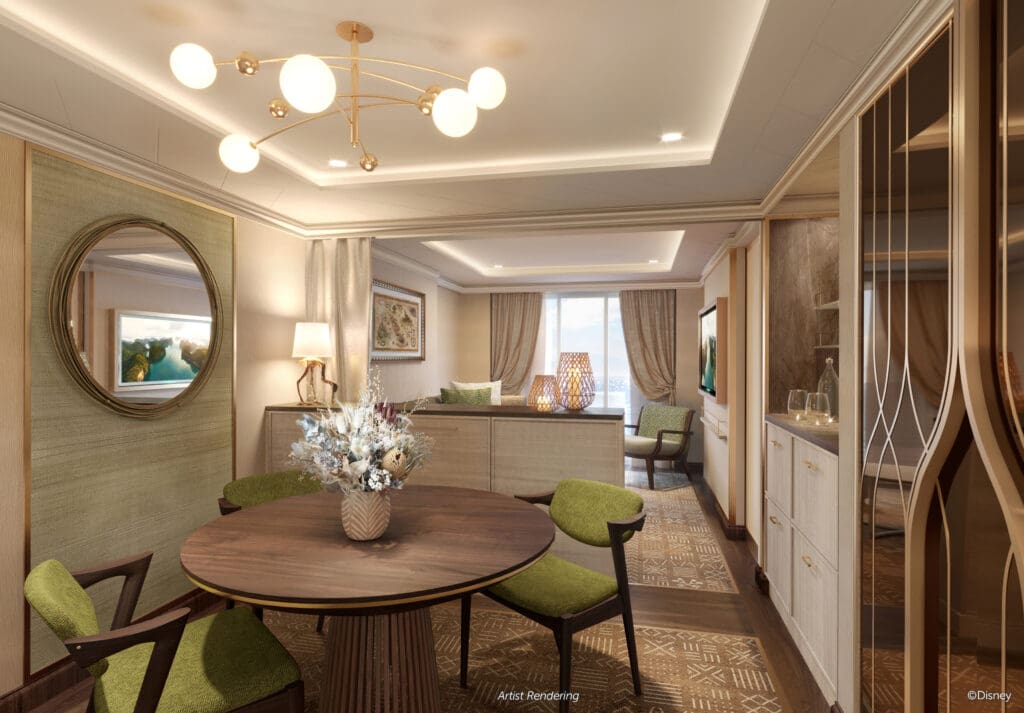 ---
Tomorrow Tower, Suite
Tomorrow Tower Suite is inspired by EPCOT's World Discovery neighborhood!
Embracing the adventures of tomorrow, the Tomorrow Tower Suite will capture the same forward-thinking mindset that inspired the Walt Disney World Resort theme park, EPCOT, with an energetic design. Set high in the ship's forward funnel, this one-of-a-kind suite will overlook the top deck of the Disney Treasure and glimpse the unbounded open horizon through an expansive two-story window.
This space will include metal accents, futuristic glass, art pieces, and more.
The suite will feature close to 2,000 square feet of living space. You will find a full kitchen and a private elevator. This suite will allow up to eight guests to enjoy a truly magical vacation at sea together.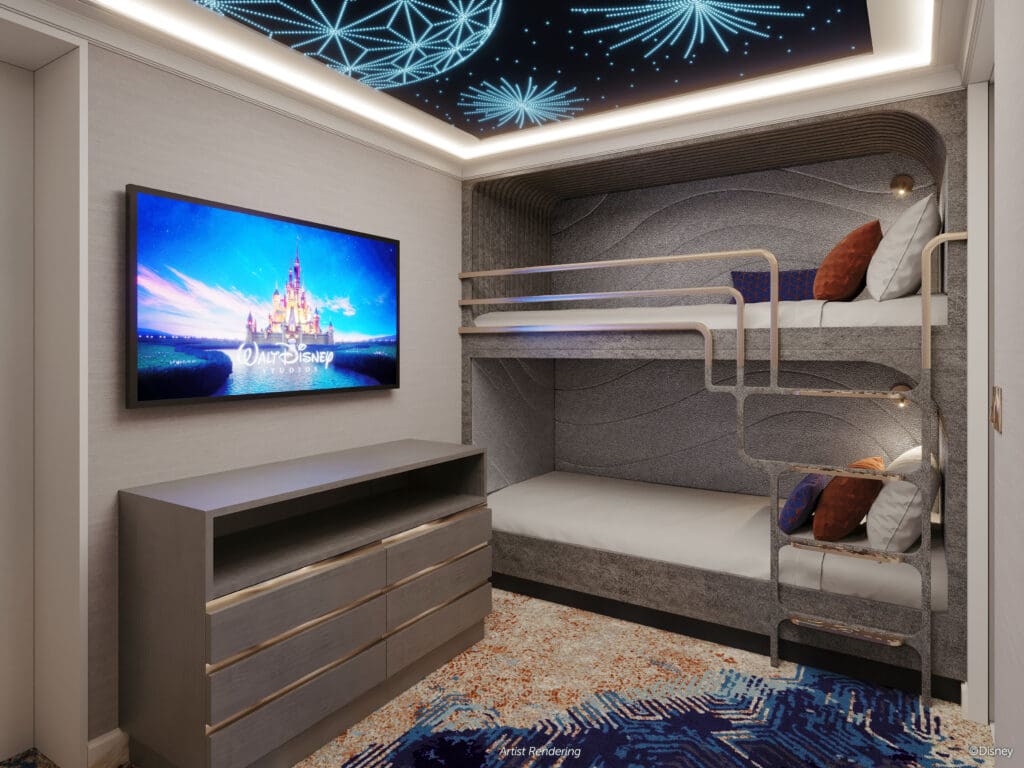 ---
Periscope Pub
Here guests will dive into the mythical depths of uncharted oceans at the Periscope Pub. Serving as Disney Cruise Line's first venue inspired by the spellbinding adventure of Walt Disney's 1954 film, "20,000 Leagues Under the Sea" and the celebrated Disney Parks attraction, the submarine-styled interiors will give guests a look at the watery world below through an intriguing glass ceiling. In addition to the latest sports games, explorers will encounter a menu of craft brews and light bites.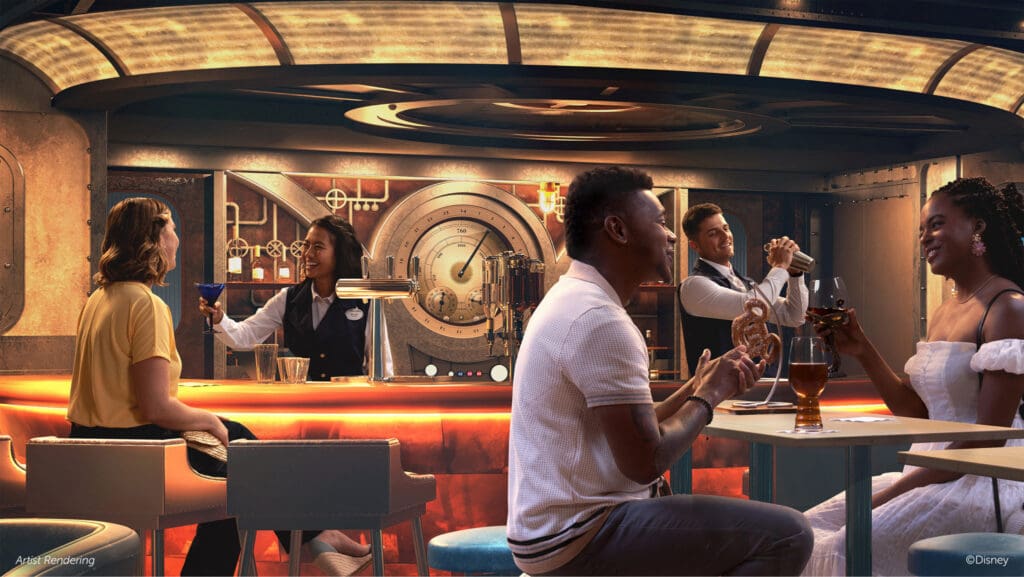 ---
Skipper Society
The Skipper Society lounge will be located near the Grand Hall and is themed to the "Jungle Cruise". With just a preview we can already spot so many references to the Jungle Cruise throughout the venue.
The venue's natural colorways and camp-style furnishings will be paired with sly tributes to the trusty, dry-witted skippers who lead world-famous tours across treacherous waterways for an elevated, yet playful atmosphere where guests will indulge in themed cocktails and light snacks.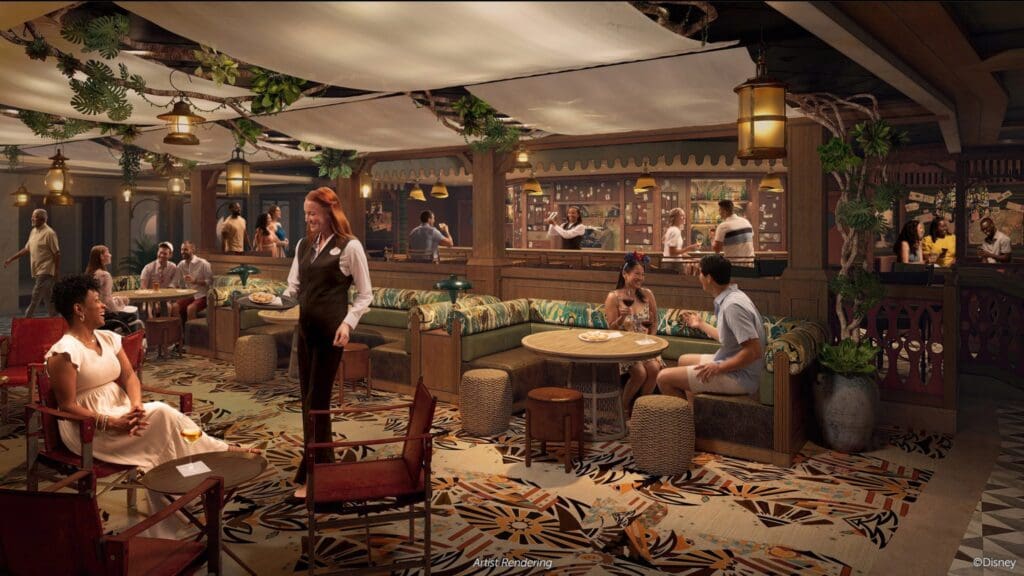 ---
Some other amazing venues we discovered were….
Jack Cricket Café, inspired by Disney's "Mulan." The café will feature nods to "Mulan" through "the central moon gate to the plum blossom flowers adorning the walls," along with blue walls and metallic counters inspired by Mulan's armor.
Heihei Café is inspired by "Moana" with "scalloped seashells and reflective blue waters of the storied Southern Pacific Isle of Motunui as it is portrayed in Disney's animated feature."
Disney did also confirm the Disney Treasure will not feature Star Wars: Hyperspace Lounge, which is on the Disney Wish.
---
It is so hard to decide which new space we're most excited for! Bookings for the Treasure open on September 20th, 2023, and our travel advisors at Wonderland and Beyond Travel would love to help you experience this Magical vacation at sea.
We can't wait to make memories aboard Disney Cruise Line's newest ship, the Disney Treasure, setting sail in December 2024.
Booking opens next week!!
Pearl Castaway Club members – 9/12
Platinum Castaway Club members – 9/13
Gold Castaway Club members – 9/14
Silver Castaway Club members – 9/19
General Public – 9/20
For more information about the new Disney Treasure and to book your vacation simply fill out the request below!