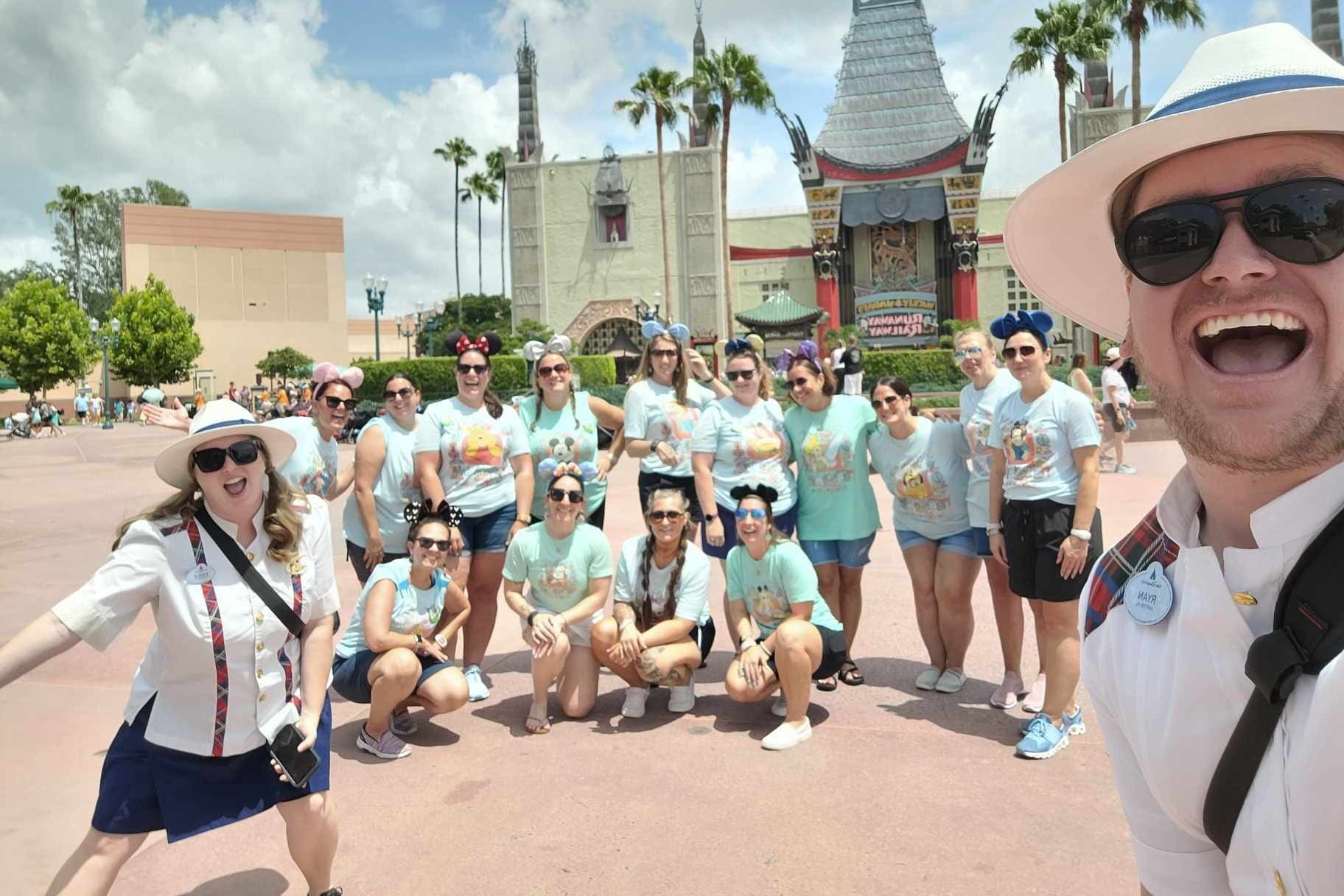 ---
If you have ever been to the Walt Disney World Parks, you've probably seen those cast members in plaid walking around the park with a family, getting them to the front of the lines or handing out Disney snacks and telling magical stories, all while making you wonder who are they and how are they so important? Well, that was a Disney Private VIP tour guide, and recently my team and I got to experience this Magical Disney tour, and I can't wait to share it with you!
Guests are able to purchase a Disney World Private VIP tour allowing them their own personal guide to navigate the parks, provide insights and history, and most importantly bypass the standby lines!
The team at Disney VIP Tour Services will plan the most efficient, enjoyable way for groups of up to 10 guests to see and do the things on your list. Just tell your personal VIP Tour Guide what you'd like to see, and they'll customize your day to your desire!
After being picked up from our Walt Disney World Resort in a private vehicle, my team and I received unparalleled hospitality as we got to enjoy some of our favorite attractions alongside our VIP Tour Guides.
Since our group was more than 10, we had 2 guides for the day, which made our time even more enjoyable as everyone in the group got the chance to talk and learn more about the hidden secrets and tips. Our guides Ryan and Kayla were amazing, they've both been cast members for several years and had such fun stories about their experiences at the Disney parks.
We started our day with a pickup from our Disney Resort hotel at 9am, we headed right to Magic Kingdom where we were greeted by cast members with snacks and water. Out guides brought us into the park through a private back entrance and walked us onto 4 of the top rides, including TRON Lightcycle / Run!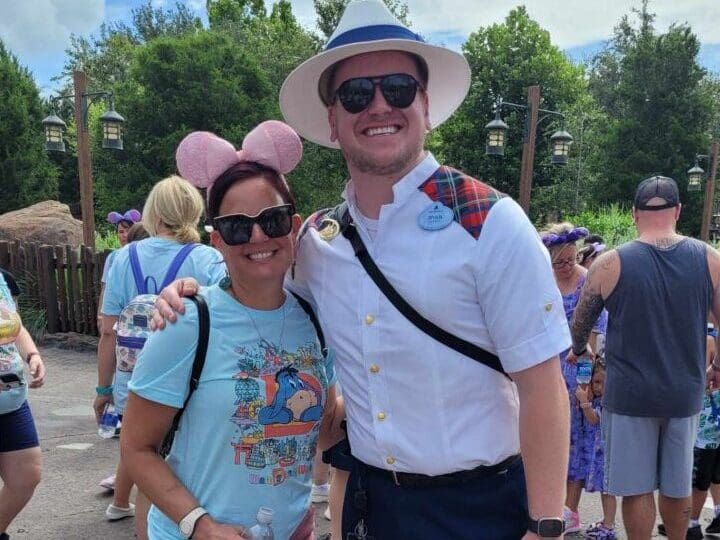 ---
After Magic Kingdom we were escorted back out a private entrance where our air-conditioned chauffer was waiting, along with MORE Disney snacks, this time Mickey Ice Cream bars…. perfect for this hot summer day.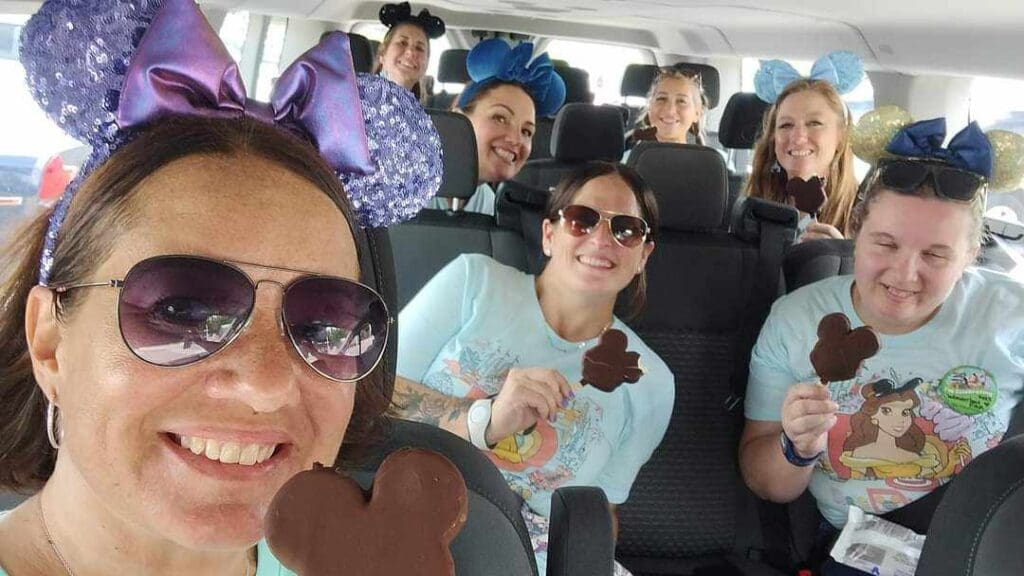 ---
Some of the personalized services include:
Pre-arrival planning
A flexible start time, picked by you.
Visits to multiple theme parks* in one or more days
The ability to enjoy some of your favorite attractions efficiently.
Shared insight from your highly knowledgeable VIP Tour Guide throughout your tour
*All VIP Tours require valid theme park admission, which is not included in the price of the tour
---
Our next park was Hollywood Studios, where we were again greeted with cast members sharing water and salty snacks! We headed right for the top rides like Rise of the Resistance, Mickey and Minnie's Runaway Railway, Toy Story Mania and Tower of Terror.
Our guides were the perfect mix of fun, informative, and laid-back. They took the time to get to know us and asked about our preferences and they were incredibly sensitive to the needs of everyone in the group, it was such a hot day, so they made sure we were hydrated and comfortable. After our last ride in the park, they spoiled us once more, this time with Mickey Pretzel's and cheese! It was a magical and appreciated treat.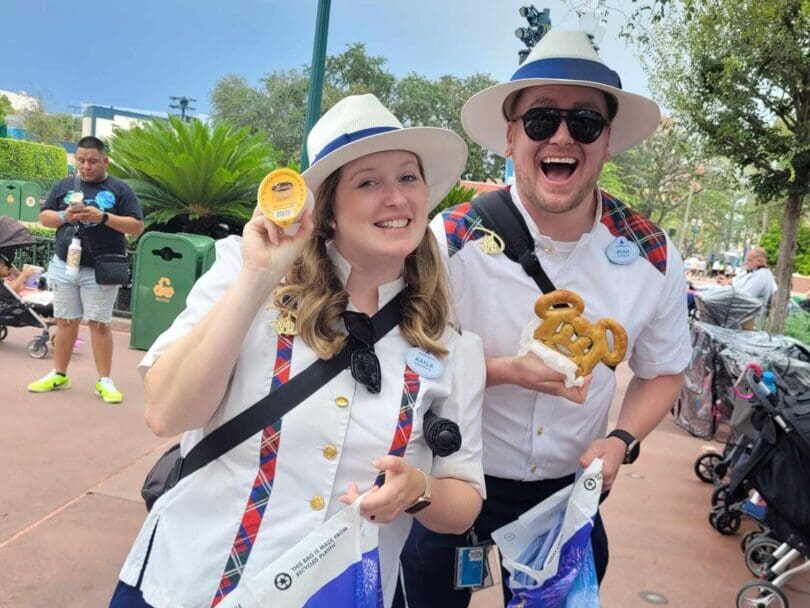 ---
Our final stop of the day was Epcot! And oh boy, was this amazing to see the backside of the park, we literally drove past each country and got to see the behind the scenes of it all, that alone was worth being on this VIP experience. We drove right to SOARIN, got out of our vehicle, walked through a back door and like Disney Magic we were at SOARIN. After the ride we walked back out to our vehicle and then driven to the other side of the park where we got dropped off and rode the new Guardians of the Galaxy TWICE! That was AMAZING!
Having the opportunity to ride one of the newest and most popular attractions at Walt Disney World, two times back-to-back as really awesome, actually the fact that we rode so many of the top rides in one day was the best experience and worth every penny, in my opinion.
We ended our day feeling excited and fulfilled! The best part is that your VIP experience can be completely customized to what you want to do. Prior to arrival I was given the opportunity to speak with the VIP team to plan my start and end time as well as the parks and rides we wanted to experience, the guides are such professionals they knew every detail to work in and how to time it, so we didn't miss a thing, they even came prepared with ponchos and back up plans in case of bad weather, thankfully we did not encounter any.
---
A Disney Private VIP tours is truly a great way to maximize your time at Walt Disney World since they are the only way to actually skip the lines in the parks. The experience does come at a cost, but the personalized service, exclusive experiences, fast-tracked ride access, and VIP treatment make the adventure worth it in my mind.
Are you ready to book your Disney VIP Tour? Our team would love to help you learn more about pricing and availability throughout the year.
---
The travel advisors at Wonderland and Beyond Travel experienced this tour firsthand so they can better assist guest when planning their Walt DIsney World vacations, and they would love to share all they can with you too!
Know Before You Go
View important information including reservations, Guest restrictions and cancellation policies Disney Private VIP Tour.
All VIP Tours require valid theme park admission, which is not included in the price of the tour
Disney VIP Tours participate in full security screenings (including bag checks) during your Disney VIP Tour. Guests should be prepared for screenings with their appropriate government issued identification.
Disney Park Pass reservation is also required for park entry.
Disney Private VIP Tours at the Walt Disney World Resort are very popular and may be limited in availability. Advance reservations are highly recommended. Learn when advance reservations can be made.
All Private VIP Tours must be booked for a minimum duration of 7 continuous hours, and your party may include up to 10 Guests, including infants.
Entertainment offerings are subject to availability and may be restricted by capacity constraints at the time of booking.
You will incur a cancellation fee equal to 2 hours at the booked rate per tour if you do not provide at least 48-hour notice when cancelling any Private VIP Tour.
No cameras, video equipment or cellphones may be used while in backstage areas.
Guests 17 years and under must be accompanied by a paying participating parent or guardian.
Pricing and information are subject to change without notice.
---
Thinking about a visit to Walt Disney World Resort? Getting started is easy! Simply fill out our form below to get a travel quote from Wonderland and Beyond Travel.